Kannikegården in Ribe - award-winning architecture
Distance: 0.11 Km

Kannikegården (Lundgaard and Tranberg 2016) is beautiful and modern award-winning architecture on the cathedral square in Denmark's oldest city, Ribe. The building also contains remains of probably Denmark's oldest brick building and Denmark's first cemetery. In the period autumn 2014 - winter 2016, Kannikegården was built by the Ribe Parish Council as a parish house and as a framework for church offices in Ribe.
The building was designed by the architectural firm Lundgaaard & Tranberg, Copenhagen, which won the task in a competition in 2012. The building houses the cemetery administration, choirmaster's office, provost administration and offices for priests and organists in the city's two parishes. On the 2nd floor there is a room which is used for concerts, meetings and lectures.
In the building's "basement" there are remains of a former canon monastery's dining hall (refectory). The monastery burned down in 1176, and the ruin is considered to be one of the oldest brick buildings in Denmark.
Kannikegården is predominantly built in concrete, steel, glass and brick. The brick that characterizes the building is in a special format (34 x 70 cm) and produced by Petersen Tegl near Nybøl Nor. The clay is hard fired and of English origin. The medieval remains of the processional corridor have been built together with the new house.
Behind Kannikegården there is a garden with terraces leading down to the base of the ruin, which can be seen through glass walls. From here you can move around the building and feel the tremendous thickness of the cultural layers on the site.
In the years 2008/2009 and 2011/2012, archaeological investigations of the entire now built-up area were carried out, where the probably oldest Christian burials in Denmark (890s) and the preserved ruin were brought to light, in addition a fragment of a rune stone and around 100.000 loose objects.
The work on the building has been put in the hands of the company Jorton as a main contractor with 9 subcontractors.
The building is financed with the fire compensation, loans from the diocese's funds and foundation support.
The ruins and gardens are financed with support from the Realdania foundation.
The First Christians - Denmark's oldest Christian cemetery
In the summer of 2021, it became possible to get all the way down to the ruin. At the same time, you can see where graves have been found and you can discover even more about history via touch screens.
Kannikegården can be visited on organized, guided tours. The ruin can also be viewed with a guide, where you get inside the glass and look down on the ruin. Contact +45 75 42 03 50 or anms@km.dk
Updated by: Wadden Sea Coast |
info@vadehavskysten.dk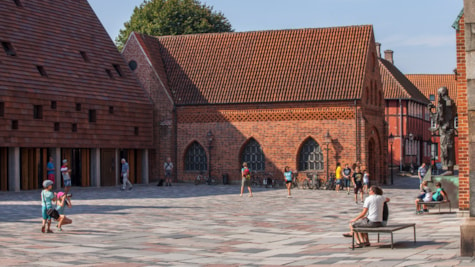 Photographer: Destination Wadden Sea coast
Copyright: Destination Wadden Sea Coast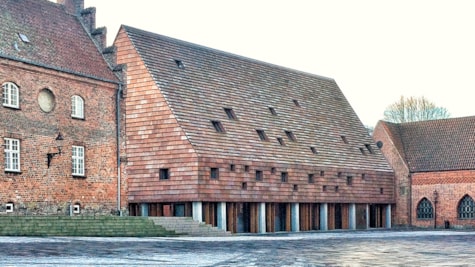 Photographer: Destination Wadden Sea coast
Copyright: Destination Wadden Sea Coast