Nicolai - Kulturhus in Kolding
Distance: 48.37 Km

Nicolai is a cultural powerhouse in the heart of Kolding.
The complex consists of five independent houses, but also functions as one cultural whole.
The frames signal both quality and innovation – something that is repeated in all the houses' offers.
At Nicolai, we cultivate diversity, creativity and new encounters between arts and cultural expressions.
Nicolai Cinema The cinema is an 'art cinema' that shows a wide selection of artistic quality films, supplemented by a mainstream repertoire that spans children's and youth films, family films and documentaries. Both cinema halls are fully digitized, so that both picture and sound contribute to the great cinema experience. In addition, the cinema offers a wide range of cultural events such as lectures, debate evenings, theme days etc.
Nicolai Café In Nicolai Cafe, you can get classic high-coated smørrebrød with a modern twist, pizza from a stone oven and light classic cafe dishes.
Kolding City Archive The city archive is the memory of the city and the municipality. Here you can find stories about life in Kolding - photographs, films and stories. The city archive is a center for studies in the city's history - both for researchers, the city's citizens and school children. Everyone can use the archive, whether you want to know something or have something you would like to tell yourself.
Nicolai for Children Nicolai for Children is a child-level experience universe for 1-2-year-olds. The children can go exploring with their family and be met with exciting, creative challenges. The house offers visual, design and theater activities and organizes workshops for schools and institutions. Professional children's theatre, concerts and much more are also organized here.
Nicolai Art & Design The old Girls' School is today a center for art, design and entrepreneurship. The house consists of exhibition rooms on the ground floor, which present exhibitions of professional art, design and handicrafts - approx. 1 exhibitions per year.
Building 1 New cultural center in the Nicolai complex, with space for cultural entrepreneurs, cultural actors, entrepreneurs, creative initiatives and much more.
Nicolai Scene What was once the Gymnasium is now the setting for concerts with professionals, amateurs and students on stage. The hall has unique acoustics and is considered the finest concert hall for chamber music in the Triangle area. At Nicolai Stage, lectures, children's theatre, exhibitions, tango evenings and much more are held.
The farm in Nicolai The old schoolyard has been given new life by Architect Kristine Jensen's Drawing Studio and now appears as an exciting and award-winning urban space, where there are markets, concerts, entertainment, games, workshops and urban space experiments all year round.
Updated by: Destination Triangle Area |
info@tdto.dk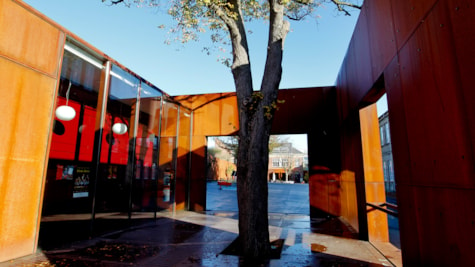 Photographer: Destination The Triangle area
Copyright: Nicolai Art and Design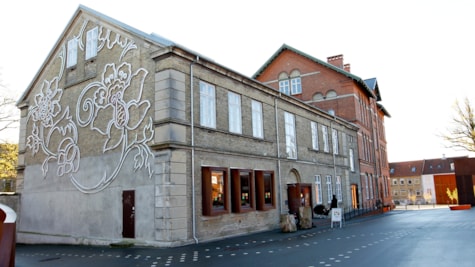 Photographer: Destination The Triangle area
Copyright: Nicolai for children