Go on a bike ride with Thue and Susanne, and get a ride where you know everything has been thought of. They know all the small roads and know where the good stories are. Susanne cycles in front and Thue tells the stories. Thue has been cycling since 1992, and the routes that Thue plans are approx. 15-30 km round trips. It can, for example, be a trip from Skodborg over Gredstedbro and back to the starting point, or from Foldingbro over Hjortlund round past the Bronze Age mound Skelhøj and then back to the starting point. Thue is very aware that everyone must be able to participate, and the pace is therefore adapted to trips where there can be 20-50 people. Along the way, there are stops where Thue tells small stories, it can be about the works of art in regional concrete that you pass along the way, or the panzer trenches from 1944 at Lindtrup forest and the Vigo Lakes. Thue also likes to talk about the history of the borderlands, especially when you pass domain farms and border crossings. And otherwise, the focus is on enjoying being in nature, seeing what you pass. If you just want a bike ride outside the described routes at VisitVejen, you can also try contacting Thue for a route description.
Tour suggestions: Kleinbahn Rødding, Gram, Haderslev Reunion trip Tour with a focus on nature Brændstrup, Harreby, Hygum, Hundbøl and Rødding Exercise tour Culture and history tours Viggo lakes
The practical: The bike tours are approx. 15-30 km long, planned as round trips. There can be 20-50 participants. The stories can be in Danish, English and German. The tours take place at a leisurely pace. Thue can also do hiking.
Contact Thue Lauridsen for a guided bike tour: Preferably by e-mail: thue-tri@rnet.dk Telephone after 17: 23980373
Updated by: VisitVejen |
turisme@udviklingvejen.dk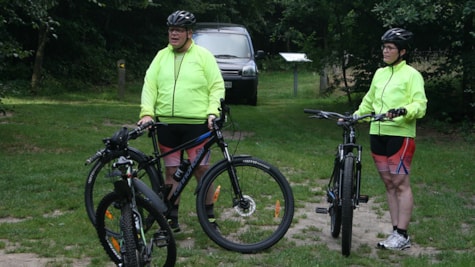 Photographer: Visit Vejen Tourist Information
Copyright: VisitVejen