Guided tours in Glad Zoo
Distance: 15.91 Km

In Glad Zoo you can experience animals and exciting stories delivered by committed mediators. They can mediate for children and adults, schools and businesses, voluntary associations and garden societies. So challenge your idea of ​​what a zoo can do, and let Glad Zoo come up with a suggestion for your next trip to the zoo.
Tour suggestions: - Take the whole family to Glad Zoo, get an introduction to the garden's animals - there are more than 80 different species here. Stop trying to hold a snake or do something extra and watch a bird of prey show. - Bring your friends and learn about butterflies and insects and how to arrange your garden so that the animals are happy. - Take the school to Glad Zoo and learn about the animals, use your senses and hear how the animals use theirs. You can also learn about evolution, the natural development of animals and their cultural development. - Bring your voluntary association and have a pleasant day where you both learn about animals and about running a business as part of the Glad Foundation. -- Let your next company outing and shake-together event be at Glad Zoo. The zookeepers are excellent communicators with great professionalism who can also challenge you.
The practical: There are 4 mediators in Glad Zoo. To get the best experience, a group should ideally be under 50 people.
Contact Glad Zoo for more information and prices: Phone: 30516699 Email: mail@gladzoo.dk
Updated by: VisitVejen |
turisme@udviklingvejen.dk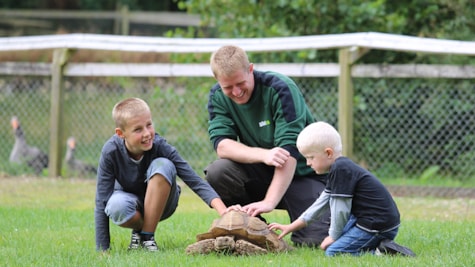 Copyright: Visit Vejen Tourist Information