Mini golf at Rødding Center
Distance: 18.92 Km

The 18-hole mini golf course at the Rødding Center offers many challenges, and is at the difficult end of the scale. If you are fresh, you will certainly get entertainment for the money and a pleasant activity together outdoors. Minigolf is an activity where everyone, regardless of starting point, can participate. On the minigolf course in Rødding, as an extra, there are signs posted at all holes where you can read a little history about places and businesses in the town, because the course is sponsored locally. Rødding is the town where the world's first college was built.
Close to the mini-golf course, there are good outdoor living options in a packed lunch cabin and table/bench set. You can bring your own food or buy it in the RøddingsCentret's café.
Practical You buy your ticket in Informationen or in Café Goma inside the RøddingCentret. It costs DKK 50 per person regardless of age.
If you want to book the track for use outside the centre's opening hours, you write an email to post@rcentret.dk with information about the number of people coming, expected arrival time and MobilePay receipt. The amount can be paid via MobilePay 21917, and you must remember to write "Minigolf" in the text field. The Rødding center then sends an email back with the code for a storage cabinet, which is outside to the right of the Rødding Centre's front door. Everything is equipped here, alcohol etc. So it is possible to play mini golf outside the centre's opening hours.
Rules: The player with the fewest strokes wins the match. Every stroke counts. If the ball goes out of bounds, you get a penalty stroke. If the ball is impossible to play, it must be moved 5 cm. forward at a fairly straight angle. Max. 8 strokes. If you do not get the ball in the hole in 8 strokes, the hole counts as 10 on the scorecard. The courses should be played in correct number order. You must not gamble.
The lanes must NOT be stepped on!
Updated by: VisitVejen |
turisme@udviklingvejen.dk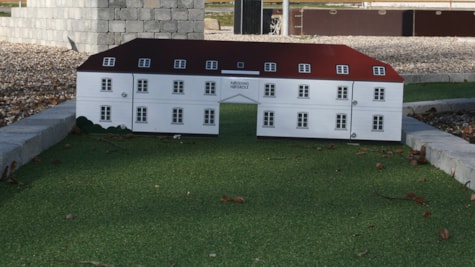 Photographer: Visit Vejen Tourist Information
Copyright: VisitVejen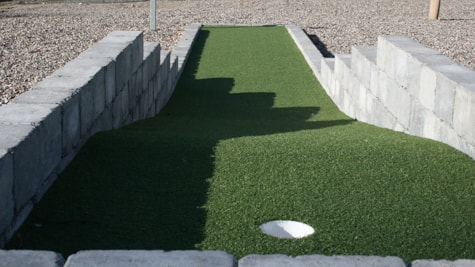 Photographer: Visit Vejen Tourist Informatics
Copyright: VisitVejen
Photographer: Visit Vejen Tourist Information
Copyright: VisitVejen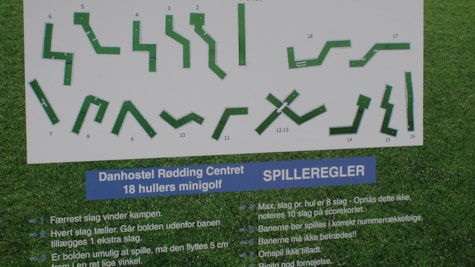 Photographer: Visit Vejen Tourist Informatics
Copyright: VisitVejen