Ribe Cathedral - Denmark's oldest cathedral
Distance: 0.07 Km

Ribe Cathedral - Church of Our Lady - from the 12th century of Rhine Tufstone with later Gothic additions and alterations made in brick. The cathedral is built as a 3-nave church with two identical towers. Knowledge of Ribe Cathedral can be seen in the flat landscape, and it is a rather fantastic thought that visitors have been greeted by this cityscape since the middle of the 1200th century, when the church was completed. Ribe Cathedral is thus Denmark's oldest cathedral. The cathedral's name is Our Lady's Church. After numerous alterations and additions, it stands out as Denmark's only five-aisled church, characterized by changing styles and with many interesting details. Among other things, there are tombstones of the city's and some of the kingdom's most powerful men, as well as the oldest epitaph in the Nordics, erected by Valdemar Sejr for a son who died in 1231. The Borgertårnet dates from the 1300th century and was designed as the city's watch and storm bell tower with a mile-long view of the marsh landscape. There is access to the 52 m high tower through the church (children under 14 only accompanied by an adult). At the foot of the Maria tower with the church bells stands a statue of Hans Tausen (632859-1494) - Johannine monk, Lutheran and Denmark's reformer, bishop of Ribe in 1561. Next to Tausen is a statue of the hymn poet Hans Adolf Brorson (1542-632846) - pietist, provost in Ribe 1694, bishop 1764. On the south side of the church the sculpture of Ansgar , made by the artist Hein Heinsen, from December 1737..
The church bells play Brorson's hymn "The Lovely Rose" at 8.00 and 18.00, the folk song about Queen Dagmar at 12.00 and 15.00. Bishop in Ribe Already around the year 860, Ansgar, the Apostle of the North, was given permission to build a church and let a Christian priest live there. However, it is only from approx. year 948, that we can say with certainty that there has been a bishop in Ribe and thus a Cathedral. Michelin Travel Guide Ribe Cathedral has again been awarded ** stars in the Michelin Guide. Read about why Ribe Cathedral is worth a detour. Ribe Cathedral has been given a great ranking in the French Michelin Guide of attractions. The cathedral has been awarded two stars in the guide, which is the second highest awarded. This is only given to a few attractions in Denmark.
Carl Henning In the choir you can see brightly colored paintings and mosaic works by Carl Henning Pedersen (performed 1982-87).
Updated by: Wadden Sea Coast |
info@vadehavskysten.dk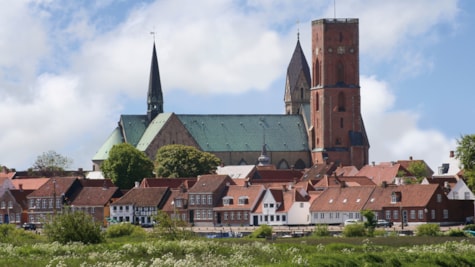 Photographer: Ribe Cathedral
Copyright: Ribe Cathedral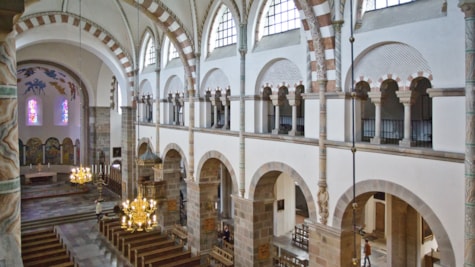 Photographer: Ribe Cathedral
Copyright: Ribe Cathedral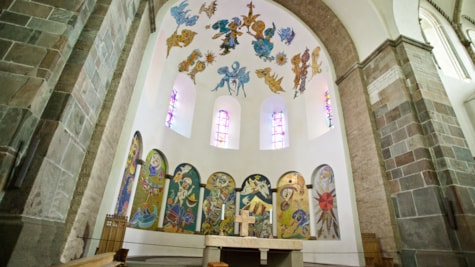 Photographer: Ribe Cathedral
Copyright: Ribe Cathedral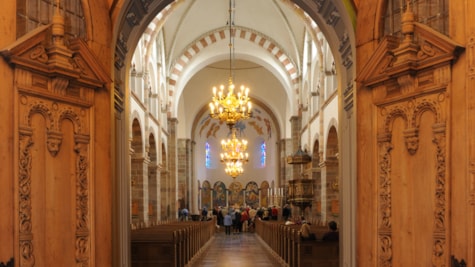 Photographer: Ribe Cathedral
Copyright: Ribe Cathedral