Guided tours on request - Ribe
Distance: 0.11 Km

A walk through Ribe's old, cobbled streets is also a walk back in time, put it all into words by booking a guided tour. Ribe has a team of enthusiastic guides who can be booked all year round for guided tours in Ribe and the surrounding area. Our guides can complete the tours in Danish, English and German. There are several themes to choose from, see them at www.vadehavskysten.dk
We offer guided tours on foot in the old town, tours of Ribe Cathedral and St. Catharinæ Church and Monastery as well as tours in the marsh area. In the case of the latter, costs for the bus must be calculated. Hear the stories from Ribe about kings and queens, churches and monasteries, storms and fires.
Short-term bookings - please note that it is not possible to book a trip at short notice up to or during weekends and Sundays and public holidays.
Note: subject to the Corona restrictions applicable at any time.
Updated by: Wadden Sea Coast |
info@vadehavskysten.dk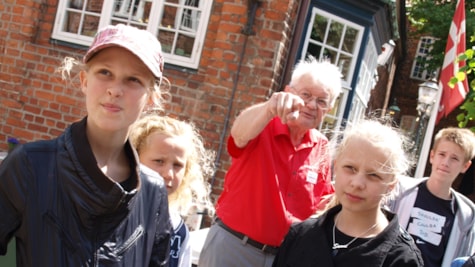 Photographer: Destination Wadden Sea coast
Copyright: Destination Wadden Sea Coast