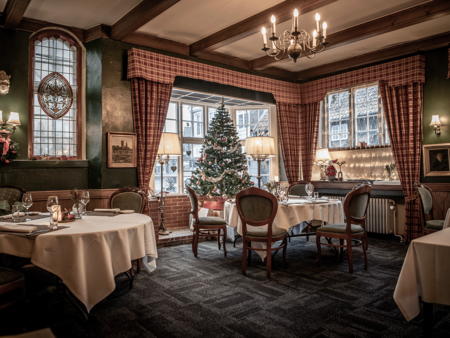 Experience Denmark's oldest city and hotel during the fantastic Christmas season. We treat you to a gourmet Christmas 5-course menu with a matching wine menu and accommodation in a charming double room at Denmark's oldest hotel in Denmark's oldest city.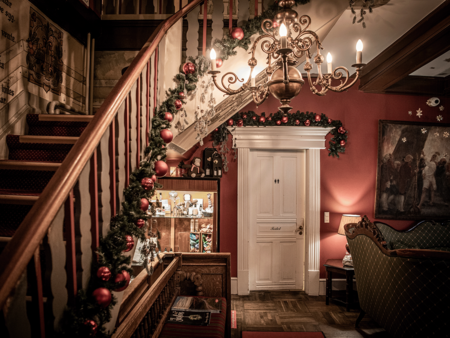 Should this year's Christmas lunch be a combination of cozy Christmas atmosphere and gastronomy? Hold this year's Christmas lunch at Denmark's oldest hotel, Hotel Dagmar.
Let's set the stage for a fantastic Christmas lunch, where you can not only enjoy fantastic Christmas food, but also the charming surroundings that the hotel has to offer.
Christmas lunch menu:
The cold:
Herring with apple/celery salad
Salmon with fresh cheese & herbs
The heat:
Rib roast - Confit duck leg - Medister - White cabbage - Red cabbage with orange & blackcurrant - Brown potatoes - Brown sauce
Dessert:
Risalamande with cherry sauce - Brie de Meaux - Olive
Accessories:
Bread
Price (pounds. NOK 385 per person
Mine. 20 people
Order on tel. 7542 0033 or info@finishing this.hoteldagmar.dk
Bookable from 1 November 2023 - 31 January 2024 (except 1 - 14 January 2024)
---
Additional beverages ad libitum:
Complete the Christmas lunch with 5 hours of beer, water and wine ad libitum.
Price (pounds. NOK 395 per person
Must be ordered by everyone in the company
Schnapps & spirits: DKK NOK 600 per bottle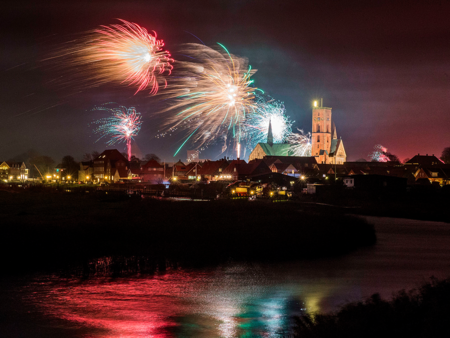 ---
Only places left for New Year's Eve without overnight stay!
Price (pounds. NOK 1.995 per person
Contact the hotel for booking.
---
OUT OF STOCK
Celebrate the turn of the year in a nostalgic setting when we invite you inside for a festive New Year's Eve, where everything is arranged - from welcome drink to the Queen's New Year's speech, 5 course New Year's menu and wine menu, music and dance with free bar, champagne and fireworks and much more.
Arrival Sunday 31 December and departure Monday 1 January. Option to book an extra night with arrival on Saturday 30 December.
Where are you going to celebrate Christmas? Hotel Dagmar already offers an exciting Christmas stay with everything that goes with it.
The Christmas Eve stay includes 3 nights with arrival on Saturday 23 December and departure on Tuesday 26 December.
We spoil you with delicious food and lots of Christmas atmosphere at Denmark's oldest hotel - Hotel Dagmar.
OUT OF STOCK!