Arne Madsen, guide
Distance: 11.88 Km

When you go on a trip with Arne, you quickly feel that you are out with someone who knows every nook and cranny, every story. Arne tells both about the historical periods that have had an impact on the local area, the stories of the local area and about the cultural landscape. With Arne as your guide, you will see something more than just the earth that bends under your feet on the footpaths. He stops at selected places and talks about the history of the borderland or the significance of the ice age that created the landscape we walk in. He knows which fields you can walk on - and who owns the cattle we pass close by. And then he knows the stories about how the burial mounds were excavated, so you can get eyewitness accounts of the excavation of Skelhøj. Arne is good at making trips where he also takes into account telling stories to the children.
Tour suggestions: - Hike around Kongeåstien starting and ending at Villebøl Rest Place. It takes you past exciting events in the history of Southern Jutland at the old border. Take walks on alternating surfaces and past the old burial mounds, e.g. Skelhøj, and past local art such as the phases of the moon cast in regional concrete. - Walk at Atte Bjerge. Here you pass the lake with water lilies, come up to the flag hill and see the magnificent view and experience the natural landscape that was created during the first and second ice ages. - Drives around the border country. Hop in a couple of cars and make stops at interesting places in the history of the borderland. Hear stories about smugglers and the gendarmes.
The practical: On hikes, there can be up to 20 people. On car trips, there can be 3-4 cars full. Remember to dress and wear shoes according to the weather. Remember to pack a thermos with hot coffee and possibly a piece of cake, because it's always nice to make a stop on such a trip.
Contact Arne Madsen for more information about tour options at: Telephone: 7539 8153 / 4019 8153 Email: madsen.junker@gmail.com
Updated by: VisitVejen |
turisme@udviklingvejen.dk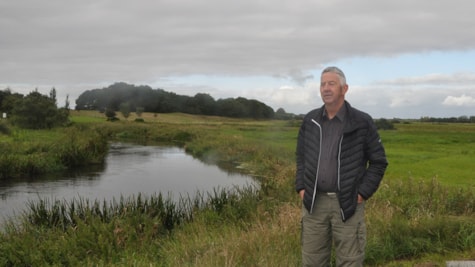 Photographer: Visit Vejen Tourist Information